"It's a poor sort of memory that only looks backwards."
—Lewis Carroll, Through the Looking Glass
"For me, time does not seem to pass; rather, it surrounds me. Thus I do not feel removed from memories, nor do they lose their intensity. I have keen recollections not because I have a good memory—I simply retrieve them from the ether. When memories have no velocity, they are very much at hand."

 —Peter Rupert Lighte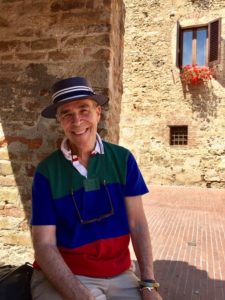 Neither the "bamboo curtain" nor sexual confusion could keep Peter Rupert Lighte from his appointed rounds. He was determined to become a sinologist before President Nixon called in on Chairman Mao and to be a father when gay still meant festive.
In the early 1970s, Peter studied Chinese culture at Princeton University and subsequently taught Chinese history and philosophy to college students. In the early 1980s, he went on to open a bank's office in Beijing and soon found himself thriving in the world of international finance. He continued to live abroad for almost three decades, dividing his time between London, Hong Kong,Tokyo, and Beijing. Currently he serves on the boards of Half the Sky Foundation and the Council on International Educational Exchange and is active in Princeton alumni affairs. A calligrapher and a mosaicist, he is the author of Pieces of China and Host of Memories: Tales of Inevitable Happenstance.
In his latest book, Host of Memories, he crafts a collection of personal anecdotes into a loving and quirky history. Here the effects of his own parents' divorce in the late 1950s, which precipitated his move as an awkward "only child" from segregated pre-Castro Miami to New York City, ricochet throughout his adventuresome life. A Jewish boy, he was raised by his fragile mother amidst a community of relatives and friends whose eccentricities, drama, affection, and wisdom shaped his soul. Along the Way, he found his future husband, Julian Grant, a distinguished English composer, with whom he went on to adopt two daughters from China and create a family of his own. As these stories demonstrate, Peter's present has been powerfully shaped by the richness of his past.
Peter, Julian, and their two daughters now live in the Princeton house where Peter resided in the 1970s as an intimidated cat sitter. Fuqi, a dog they found in a Beijing park, now happily rules the roost. Peter finally belongs.
Host of Memories now on Kirkus Reviews
"Focusing Proust-like on the objects that embody memories, Lighte hosts a tour of his life, from an American Jewish upbringing to a career in China and London. He exploits both meanings of the title by taking on the role of solicitous tour guide. These are lively, evocative autobiographical essays." Read More